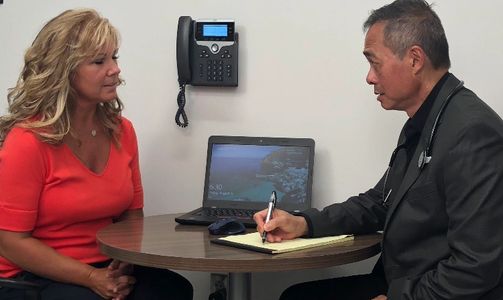 Dr. Jesse Hsieh, MD
For 30 years Dr. Hsieh has specialized in the primary care of multiple generations of families from newborns and obstetrics to surgery and geriatrics, with over 140,000 patient encounters. He has now transitioned to an exclusive and private boutique practice, Michiana VIP MD. His concierge model allows highly accessible individualized and attentive care while using cutting edge medical technology and resources. His foundation of keeping people healthy is a pro-active holistic approach to well-being: it's not just about the numbers, but also how you feel inside - physically, emotionally, spiritually. When needed, complex and detailed medical care is delivered in a deeply personal fashion while still accessing the best specialists and medical resources available. He has been featured in Press-Ganey's national publication for consistently being above the 95%ile nationally in patient satisfaction.
He teaches regularly as an Assistant Professor at Indiana University School of Medecine on diagnostic skills and bedside manner. He is an Adjunct Associate Teaching Professor for Notre Dame's MBA, E-MBA, and Executive Integral Leadership programs, including a course called "Getting it Right on the inside" for CEO's and leaders.
Dr. Hsieh is Vice-Chairman of the Board of Beacon Health System, is on the boards of The Center for Hospice Care and the Indiana University School of Medicine -SB's MEF. He serves o the advisory panels of the American Board of Family Medicine and the Indiana Supreme Court's SJC Judicial Nominating Committee.
As President of the South Bend Clinic from 2005-2014, he oversaw its growth to over 120 providers, the construction of multiple new medical complexes including a surgery center, an integrated cancer facility and satellite primary care offices, the implementation of electronic medical records, and the restructuring of care delivery systems. During his tenure, the multi-specialty group expanded its primary care patient base to over 100,000 lives, and awards recieved included the Chamber of Commerce's Economic Impact of the Year, and the United Way Company of the Year.
He has been featured in numerous national healthcare publications, has been a regular resource for local televison and print media and is the medical editor for various consumer magazines.
He has been married for over 30 years to a pediatrician, has 3 sons and 6 physicians in his family. He recieved his Bachelor of Arts in Biology from Illinois Wesleyan University, where he was president of Theta Chi fraternity, his Medical Degree from Southern Illinois University of Medicine, and his Family Medicine residency at the Medical College of Wisconsin.
His special interests inlude playing lead guitar in a working rock band Vyagra Falls and being on the medical staff for Notre Dame Football stadium.
Jami Feitz, Director
Jami Feitz has more than 20 years of experience in healthcare, including the fields of neurosurgery, behavioral medicine, gastroenterology, women's health, and clinical research. She joined Dr. Hsieh in 2009 to partner with him in the coordination and care of patients.
Jami has impeccable attention to detail and service and played a key role in the practice being ranked in the 95th%ile nationally for patient satisfaction by Press-Ganey. She was also instrumental in helping implement population health, providing clinical leadership and training of peers, and managing administrative coordination of Dr. Hsieh's board and leadership activities. She was able to simultaneously perform research.
As Director of Michiana VIP MD, her role has expanded to include the development and management of new and innovative delivery systems of care being utilized by the practice. This includes the latest in communication technology, genetics, and research. Her collaboration continues with regional specialists, ancillary services, and health care systems including Beacon, St. Joe Regional Medical Center, Notre Dame, and the I.U. School of Medicine.
Jami couldn't be any more excited to be practicing with Dr. Hsieh in a new way and is finding it incredibly rewarding:
"The traditional health care system of today can be confusing and fragmented. Our passion is knowing the whole patient as a person beyond the medical issue they may be experiencing. We really manage their care from start to finish. And that ability to coordinate, comfort, and personalize their care, and seeing their gratification in the process…is what I love most about what I do!" ---- Jami Feitz